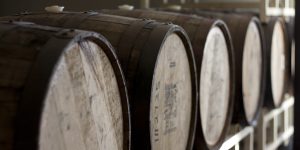 Each year our bourbon barrel-aging cellar produces some amazing beers that we gradually release when they are ready. Our philosophy is to allow the beer to stay in contact with the barrels for at least a year, so it extracts some of the complex, yet subtle flavors from the barrel. This requires patience and a generally slower release cycle, but we believe you can taste the difference. This year we produced the most barrel-aged beers in our history, and we hope that will continue into the future.
After the barrel-aged bottle and tap release, we save a small amount for us to enjoy 🙂 and a few kegs to bring each one back for a curtain call during our San Diego Beer Week barrel event! We think this year's list might be the finest we have ever assembled and challenge you to taste them and let us know what you think!
This year's barrel-aged beer blast will occur on two different dates, so you can hit both!
North Park – Friday, November 10th
San Marcos – Saturday, November 11th
We are stoked to offer the following tap list:
2017 Woodford Reserve Barrel-aged Black Lagoon Scottish Strong
2017 Coconut Barrel-aged Rescue Buoy Imperial Stout
2017 Barrel-aged Dangerous Undertow Belgian Dark Strong
2016 Coffee Vanilla Barrel-aged Rescue Buoy Imperial Stout
2016 Barrel-aged Vanilla Storm Coffee, Vanilla Imperial Porter
2016 Single Barrel-aged Storm Imperial Porter
2015 Barrel-aged Black Lagoon Scottish Strong
All of these amazing gems from the past will be pouring until the keg kicks. We expect several to go pretty fast so plan accordingly.