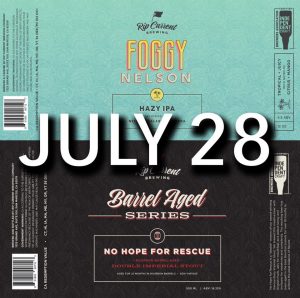 Mark your calendars for a fun event coming up at Rip Current on July 28th! Not only will we have food and special beers making an appearance, but it is also your first chance to experience two special packaged beer releases!
First, bourbon barrel-aged No Hope for Rescue Double Imperial Stout will be released in a new, smaller 500ml bottle.This crazy giant stout was aged in top shelf Heaven Hill bourbon barrels for 20 months allowing all the flavors of the Double Imperial Stout, oak and bourbon to meld harmoniously into a beer you won't believe is 18.25%!
After producing a series of very popular hazy IPAs for the last year, we have listened to your feedback and are making a limited amount available in cans! Yes, we will be periodically releasing 12oz cans of your favorite draft-only beers starting on July 28th. Our first release is Foggy Nelson hazy IPA. This "foggy" beer features the highly sought after Nelson hop from New Zealand that blasts your palate with juicy tropical fruit flavors.
We hope to see you for an amazing summer bash and dual can/bottle release. Watch our social media feeds for more details over the next few weeks.