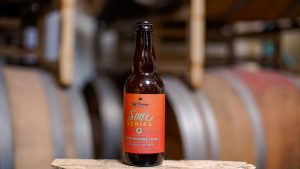 We have always been big fans of a well made barrel-aged sour beer, so in early 2017 we decided to allocate separate space in the brewery to start up our sour program. Like our barrel-aged clean (non-sour) program, these beer require significant time typically between 8-12+ months to develop and mature in the barrel before they are ideal to release. We purchased a large number of wine barrels and inoculated (adding of fermenting organisms) each barrel with varying proportions of wild yeast (brett) and bacteria (pedio and lacto) to achieve a complex blend of different acids causing sourness and complementary funk/barnyard/horse blanket (yes, this is how judges describe the flavors) from the brett.
After a long wait, it is time to finalize each sour beer, so we taste and blend the barrels that have our target flavor profiles and add any final ingredients. In this case, we added peach puree and then wait again for the beer to mature. Finally, we bottle and keg the beer and again wait for it to naturally carbonate.
After a long wait, we are stoked to announce the launch of our Sour Series and its first constituent Peach Blonde Sour! The resulting 7.4% ABV sour has a fresh peach aroma and flavor backed by complex lactic/acidic sourness melded with subtle notes of funk from the brett yeast. This sour is well balanced with all the flavors present by not adding excessive amounts of fruit that could cover up the hard work done by the bacteria and wild yeast over the last 18 months.
On Monday, November 5th our North Park location will have the initial pouring and this will be followed on Thursday, November 8th with the second tapping of the Peach Sour in San Marcos. Finally on Friday, November 9th, we will release 375ml bottles of Peach Blonde Sour for purchase for $14 (plus tax and crv). This is a small batch release, so we expect it to sell out quickly. Get your tasty piece of Rip Current history and while your here also pickup some bottles of Bourbon Barrel-aged Reserve Cuvee Blend #1!