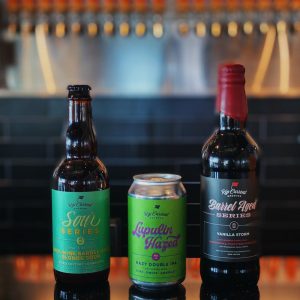 In conjunction with our 7th Anniversary Celebration, we are releasing three new bottle/can beers. Beware the bottle count on both barrel-aged beers is low so they won't last for very long.
First, the Wine Barrel-aged Blonde Sour is our first ever non-fruited sour release. This release comes from a single wine barrel that we thought showed the most compelling sourness and funky profile, so wanted to highlight the flavors without any other fruit additions. This beer was fermented and aged in wine barrels with a mix of Lactobacillus, Pediococcus and Brettanomyces that impart a variety of acids and funky character to the final beer. A very limited number of 375ml bottles will be available for purchase and the remainder will be on tap.
Next, we didn't want to forget our loyal hophead patrons! We are stoked to be releasing Lupulin Hazed Hazy Double IPA in 12oz 6-packs. Lupulin Hazed is the delicious result of our following the New England approach to brewing hazy IPAs using the hop profile of our flagship beer Lupulin Lust. At 9% ABV, this beer packs a punch but with very little noticeable alcohol and bitterness. We wanted to focus your experience on the juicy citrus fruity aromas and flavors.
Finally, Vanilla Storm is our ultra-exclusive Imperial Porter brewed with fresh Kona coffee and aged with Madagascar vanilla beans. This amazing beer has complex notes of coffee, toffee, chocolate, molasses and of course vanilla. For our anniversary release, we have aged Vanilla Storm in the one amazing bourbon barrel for 33 months allowing for a melding of bourbon and oak flavors in perfect harmony with the base beer. Because this batch was born from a single bourbon barrel, an extremely limited number of 500ml bottles will be available with the rest going on tap. Sorry we didn't produce enough to offer a pre-sale, so come get it while you can!