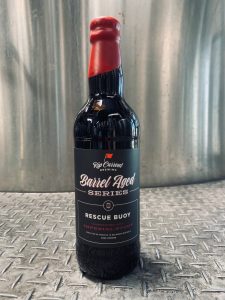 After 28+ months maturing in bourbon barrels, we are excited to announce our first ever release of Barrel-aged Rescue Buoy Imperial Stout in 500ml bottles! Rescue Buoy is our flagship Russian Imperial Stout that has recently received several prestigious awards including Gold at the California Craft Brewers Cup and a Bronze at the Great American Beer Festival and US Beer Open Championships!
We took this award-winning elixir and patiently aged it in Heaven Hill bourbon barrels for over 28 months. This allows the rich chocolate, coffee, toffee, caramel and molasses flavors of the beer to meld with the vanillin, coconut notes imparted by the oak barrels. The residual bourbon notes round out the complex flavors offered by this 13.5% ABV masterpiece.
Starting Friday, October 9th at 10:00am PDT, you will be able to pre-purchase up to four 500ml (16.9oz) bottles of Barrel-aged Rescue Buoy for pickup at either our San Marcos brewery location or North Park tasting room. We suggest buying several bottles for your cellar and open one each of the next few years to appreciate how it evolves with time.
Be sure you reserve your bottle before they are gone. Details are at: https://ba-rescue-buoy.eventbrite.com/