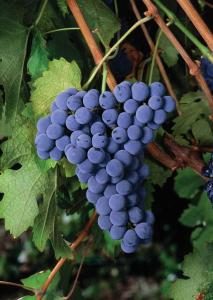 After multiple years of maturation, we are thrilled to welcome the newest addition to our mixed-culture Sour Series … Barrel-Aged Grape Sour! On Thurs, Nov 12th you are cordially invited to join us for tasting this amazing new sour on tap at both locations.
The creation of a barrel-aged sour can take years to allow the various fermenting organisms to convert the sugars and other compounds into a bouquet of funky and sour aromas and flavors plus alcohol. Our Grape Sour started its journey as a blonde ale that was placed in a red wine barrel with a collection of multiple strains of brewers yeast, brettanomyces, pediococcus, and lactobacillus. Over the following years, the beer had matured to the right balance of sourness and barnyard-like character. The next step to make this a beer/wine hybrid we added 100 pounds of Cabernet Franc grapes to each barrel to round out the final flavor. A re-fermentation ensues resulting in the final beer that presents a pleasant melding of flavors from the barrel, grapes and the underlying sour beer.

We made this complex sour in collaboration with our friends and neighbors at La Fleur's Winery. They are making fantastic wines and have a tasting room just down Grand Ave from us in San Marcos, so were a natural partner for this beer/wine hybrid beer.