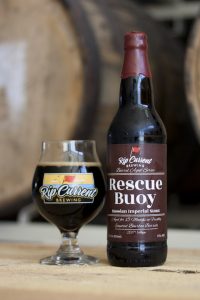 After 15 months slumbering in Heaven Hill and Woodford Reserve barrels, we are stoked to announce the release of Barrel-aged Rescue Buoy Imperial Stout in wax-dipped, 22oz bottles AND for sampling on tap starting Oct 20th! This year's Rescue Buoy has received several medals in the Imperial Stout category including at the 2017 Los Angeles and San Diego fair international beer competitions!
The bourbon barrel-aged Rescue Buoy has a silky smooth dark malt character featuring dark chocolate, molasses, dark fruits (prune, date, fig) and coffee, all surrounded by complex bourbon flavors and oak tannins with fleeting notes of vanillin.
Come try this amazing beer while it lasts and take a few bottles home to enjoy with friends later.