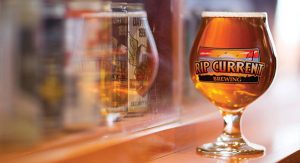 We are continuing this very popular event from previous beer weeks, however this year we are highlighting Sour Night with the release of our first ever barrel-aged multi-culture (yeast and bacteria) sour with peaches! Our Peach Blonde Sour will be introduced on tap for the first time as a prelude to its bottle release on November 9th.
On November 5th in North Park and on November 8th for San Marcos, we will have our long awaited Sour Night. Both locations will have the following beers on tap plus many of your other favorites:
• Sour Series: Peach Blonde Sour
• Raspberry Margherita Tart with raspberry, tangerine, Tequila oak spirals, Meyer lemons, limes, and Pink Himalayan sea salt
• Raspberry Cucumber Lemonade Tart with raspberry, tangerine, cucumber, and Meyer lemons
• Raspberry Coconut Ginger Tart with raspberry, tangerine, coconut, ginger
For Sour Night in North Park, we are able to carry guest beers, so you can look forward to seeing some fantastic sour beers from our colleagues at: Council Brewing, Good Beer Co, Lost Abbey and New Belgium!