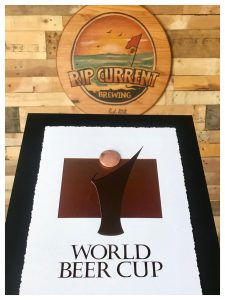 Rip Current Brewing (Rip Current) recently won several awards during the World Beer Cup and the San Diego International Beer Festival and for its German-style bock and pilsner beers.
Rip Current's Breakline Bock won a bronze medal May 3 at the World Beer Cup, a prestigious competition with more than 8,000 entries from 2,515 breweries. Breakline Bock is a German-style dark lager featuring a rich, dark malt flavor—yet, it finishes semi-dry, so it can be consumed by the liter-glass at festivals. This style is one of the most difficult to brew, making it especially significant to achieve a world-class example.
Winning entries were blindly judged by a panel of beer experts from 33 countries. Because the competition was worldwide, this means judges considered Breakline Bock to be among the best in the world.
"We are excited to announce our victory in the renowned World Beer Cup, which is our first, but are confident will not be our last," said Rip Current Co-founder and Brewmaster Paul Sangster, adding that the brewery was one of only six Independent breweries in San Diego County to earn a medal. "We are proud and humbled to have won a medal in this fiercely competitive category—especially considering how many quality German-style bock beers were entered, including many from Germany."
Just a couple days earlier, Rip Current's Breakline Bock also won a silver award at the San Diego International Beer Festival—which included over 1,500 entries from 260 breweries.
During that competition, Rip Current also claimed a gold award for its Delaminator Doppelbock, a doppel (double) sized, higher alcohol-by-volume (ABV) beer that is a more dark-malt-forward version of traditional bock. Lastly, Rip Current won another silver award for its Choppy Surf Czech-style Pilsner, a bohemian pilsner lager with a complex graham cracker-like backbone supporting an herbal hop aroma and flavor.
This is the third year in a row that Rip Current has amassed one of the highest medal counts of any brewery at the San Diego International Beer Festival.
"This year we had another very strong showing at the San Diego International Beer Festival, which really speaks to the fact that our team at Rip Current is continuing to make world class beers of many diverse styles," said Sangster of the brewery, which just celebrated its fifth anniversary. "We invite everyone to help us celebrate at one of our tasting rooms with some of our award-winning beers."
All of Rip Current's award-winning beers are available this week at their tasting room in San Marcos at 1325 Grand Avenue, suite #100, and in North Park at 4101 30th Street.