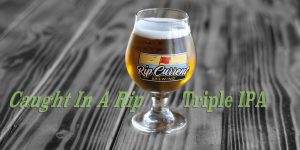 On Friday November 3rd, San Diego kicks off its annual salute to craft beer by hosting San Diego Beer Week (ok, its really 10 days but who is counting).  We are very proud to be a member of the San Diego brewing community and take this opportunity to make something special for our patrons to help with the celebration.  This year, we are introducing our crazy hop monster, Caught in a Rip Triple IPA on the opening day of beer week.
Caught in a Rip is an 11.2% beast of a San Diego-style IPA featuring all of our favorite hops from both hemispheres. Seriously, we have hops from Australia, New Zealand and of course the USA to maximize the complexity of this very fruit-forward IIIPA.  Despite its huge ABV, this beer is light blonde in color and has a clean, bone dry finish that is only sweetened by the amazing fruit flavors from the hops.
If you haven't tried it, be sure to stop by our tasting rooms during beer week. We only make this beer once a year, so you don't want to miss having your share.