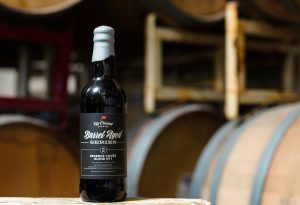 On Friday, November 9th, both tasting rooms will be selling the remaining (after the brief on-line bottle pre-sale) 500ml bottles of Bourbon Barrel-aged Reserve Cuvee Blend #1 for $18 (plus tax and crv). We don't expect the remaining bottles to last long, so be sure to arrive early to taste it on tap and buy your share.
Reserve Cuvee Blend #1 features a complex palate of flavors imparted by the four barrel-aged components included in the blend. Every one of the component beers spent at least 18 months in fresh bourbon barrels! First, we used the bourbon barrel-aged version of our GABF medal-winning Black Lagoon Scottish Strong. This scotch ale provides the silky smooth foundation and contributes flavors of dark caramel, figs, oak tannins, and bourbon character.
Next, we added 3 unreleased barrel aged beers to build out the flavor framework. Barrel-aged End of the World Double Imperial Stout was added to contribute coffee, dates, toffee, and molasses character along with a deeper bourbon richness. Barrel-aged Buckwheat Old Ale adds a complex dark honey and buckwheat flavor and sublime oak tannins. Finally, Barrel-aged Wakeboarding Wheatwine imparts a rich toasty malt flavor and a full body with some bourbon spiciness. The resulting cuvee blend has a very broad array of flavors challenging your senses with every sip while finishing with a mellow warming from its 14% ABV as it goes down.